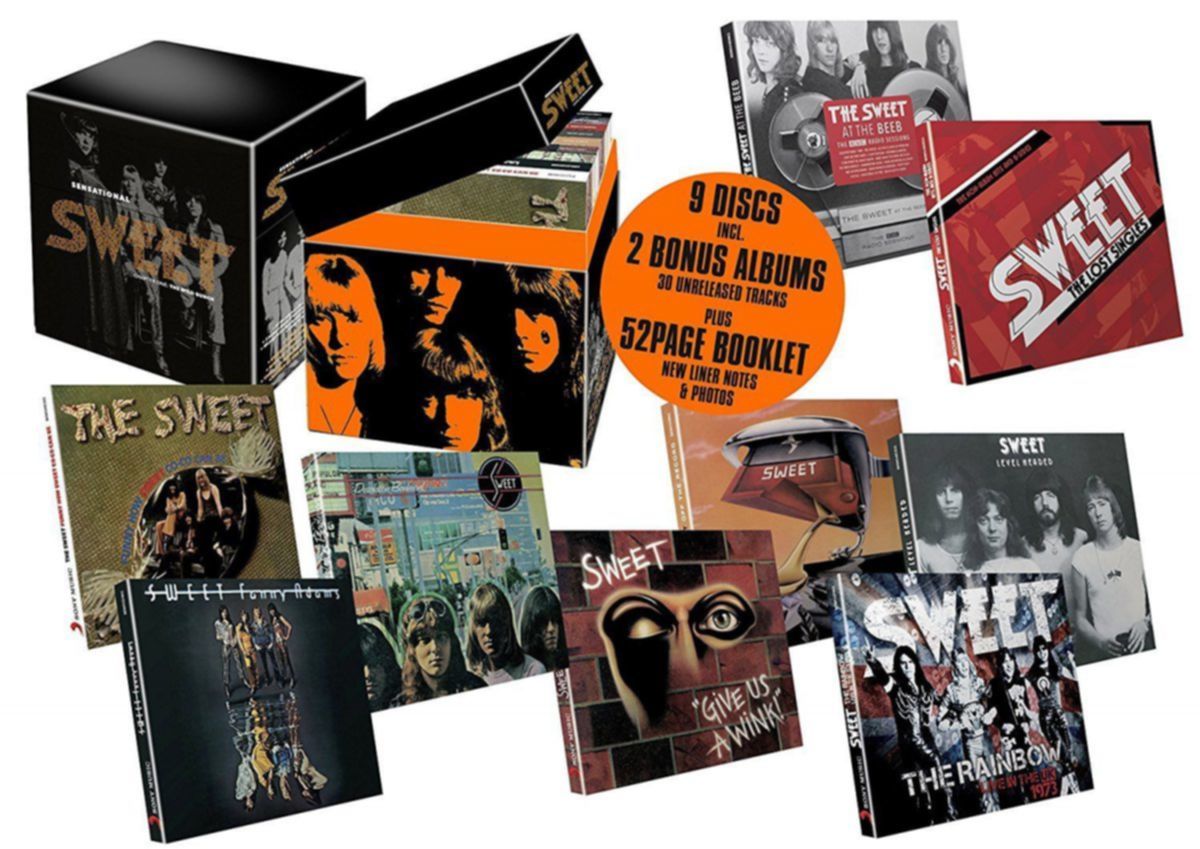 Opulente 9-CD-Werkschau – vom ›Lollipop Man‹ bis zu ›Love Is Like Oxygen‹
Wer um 1970 in Bubblegum-Pop machte, saß ein für allemal fest in der Stilschublade, ge­­brandmarkt als Nichts-könner. Spielten doch bei den Stu­dioaufnahmen stets andere Musiker als die auf Platten-covern und im TV gezeigten Teenie-Idole. Lange Zeit kämpften auch die 1968 in Hayes, Middlesex, gegründeten The Sweet mit dem Stigma der Frühzeit: vier Bubblegum-Singles. Auszugsweise finden sich diese gar nicht mal so schlechten Ergüsse (›Lollipop Man‹, ›All You'll Ever Get From Me‹) als Teil der BBC Sessions auf der finalen Disc des 9-CD-Boxsets SENSATIONAL – CHAPTER ONE: THE WILD BUNCH 71 – 78.
Ein kompletter Rundumschlag, der sämtliche LP-Originale ebenso miteinschließt wie zahlreiche Bonustracks (Demos, Alternativ-Versionen etc.), einen kompletten Livemitschnitt von 1973 sowie sämtliche A- und B-Seiten der von 1971 bis zum Ende des Jahrzehnts europaweit erfolgreichen Band. Mit Kraftanstrengung gelang es Sänger Brian Connolly, Bassist Steve Priest, Gitarrist Andy Scott und Schlagzeuger Mick Tucker das Image der Marionet­tenband abzulegen, erst als bis unter den Nabel geschminkte Glamrock-Truppe, danach als ganz in Leder gekleidete Hardrock-Combo. Frühe Charthits, Cover-Versionen (›Reflections‹ der Supremes, Lovin' Spoonfuls ›Daydream‹) zierten das Debüt FUNNY HOW SWEET CO CO CAN BE (1971). Auf SWEET FANNY ADAMS (1974) agierte das Ensemble zum letzten Mal unter der Regie von Produzent Phil Wain­man. Sechs von neun verrockten Tracks (u.a. ›Set Me Free‹, ›Rebel Rouser‹, ›AC-DC‹, ›Sweet F.A.‹) waren Eigenkompositionen.
Das Songwriter-Team Nicky Chinn und Mike Chapman waltete final auf DESOLATION BOULEVARD (1974), mit dem in den Münchner Musicland Studios selbstproduzierten GIVE US A WINK legten Sweet 1976 die Meister­prüfung ab: ›Action‹, ›Healer‹, ›Cockroach‹ oder ›4th Of July‹ galten Protagonisten der New Wave Of British Heavy Metal stets als heilig. Umso unverständlicher, dass sich Sweet auf Druck der Platten­firma mit dem Nachfolger OFF THE RECORD (1977) abermals aufs Kommerzterrain begaben. Ein Wechsel zu Polydor lieferte 1978 das seltsam softe LEVEL HEADED mit dem finalen Top-Ten-Hit ›Love Is Like Oxygen‹.
8/10
(The) Sweet
SENSATIONAL – CHAPTER ONE: THE WILD BUNCH 71-78
RCA/SONY